General information about Bali
---
Welcome to Bali, The island of Bali is part of the Republic of Indonesia and is located 8 to 9 degrees south of the equator between Java in the West and Lombok and the rest of the Lesser Sunda Islands (Sumbawa, Flores, Sumba and Timor) in the East. Bali is one of the most popular tourist destinations in the world. A huge number of honeymooners and holidaymakers come to this island. Even first time visitors to Bali will quickly be enthralled by how fun and fascinating Bali really can be. For those looking for a glimpse of the real Indonesia, or just a fun night out, Bali mixes old world charm with a modern and vibrant night life. Bali is Famous for its dance and music, many carvings, paintings, leather as well as metalworking is quite popular here.
Bali's population has grown to over 4 million people the overwhelming majority of which are Hindus. However, the number of Muslims is steadily increasing through immigration of people from Java, Lombok and other areas of Indonesia who seek work in Bali.
With a population of 3,890,757 in the 2010 census, and currently 4,225,000 as of January 2014, the island is home to most of Indonesia's Hindu minority. According to the 2010 Census, 84.5% of Bali's population adhered to Balinese Hinduism, 12% to Islam, and most of the remainder to Christianity.
Bali is the largest tourist destination in the countryand is renowned for its highly developed arts, including traditional and modern dance, sculpture, painting, leather, metalworking, and music.
There is the combination of the friendly people, the natural attractions, the great variety of things to see and do, the year-round pleasant climate, and the absence of security problems. And then there is Bali's special "magic", which is difficult to explain.
Bali is part of the Coral Triangle, the area with the highest biodiversity of marine species. In this area alone over 500 reefs building coral species can be found.
Religion and ceremonies are a large part of the Balinese culture and define the lives of most Balinese people.
Culture
---
The culture of Bali is unique
Balinese culture is perhaps most known for its dance, drama and sculpture. The culture is noted for its use of the gamelan in music. The island is also known for its form of Wayang kulit or Shadow play/Shadow Puppet theatre. It also has several unique aspects related to their religion traditions. Balinese culture is a mix of Balinese Hindu/Buddhist religion and Balinese custom.
From 2014 - 2019 Indonesian President is Ir.H.Joko Widodo and vice president is Drs.H.Muhammad Jusuf Kalla.
From 2013 - 2018 Bali Governor is I Made Mangku Pastika and deputy governor of Bali is Drs.Ir.I Ketut Sudikerta
Famous Destination in Bali
---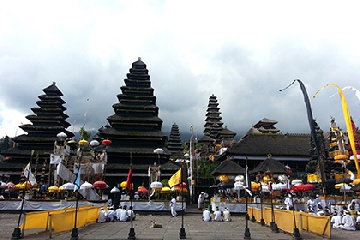 Besakih Temple
Besakih Temple is the biggest Hindu temple in Bali and also Hindu Mother Temples in Bali. Besakih Temple is located in Besakih countryside, Rendang sub district, Karangasem regency, east part of the island. The temple has organized all area's temple in Bali which are worshipped three God of Hindu, Brahma, Vishnu, and Shiva. Besakih Temple is one of the famous destinations in Bali and many tourists visit from all over the world. From the top of temple view of Besakih is very beautiful. We can see mount Agung, the biggest mount in Bali. When you visit besakih temple you will feel cool temperatures, beautiful nature and calm atmosphere.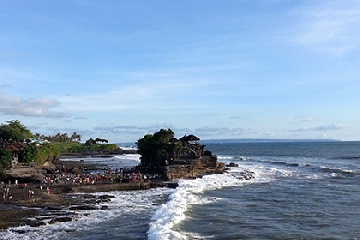 Tanah Lot Temple
Tanah Lot Temple is located in coastal side of Beraban countryside, Kediri sub district and Tabanan Regency. Tanah Lot Temple is built on the sunken rocks encroached by tide and rain for a long time, and it is known as the picturesque that stand out to the Indian Ocean. Tanah lot temple is very famous destinations in Bali with spectacular view of sea and sunset. You can come closer to when it's low tide. However, heathens are prohibited to enter the temple as a rule. In front of Tanah Lot Temple there are holy tame snake in black and white color. Hindu people believe holy tame snake that is as a deity property and protect of the temple from bad people or bad influences. For women who are menstruating can't enter into the temple.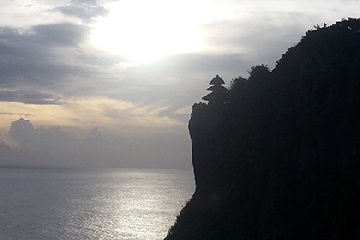 Uluwatu Temple
Uluwatu temple is located in Pecatu Village, Sub district of South Kuta and Badung Regency. Uluwatu temple is built on high the cliff bank in south part of Bali Peninsula. Uluwatu temple is a popular place to enjoy the sunset and view of ocean and beach is very beautiful. Uluwatu temple is famous of surf break and Uluwatu Beach is popular surfing spot for the very experienced. Some area of Uluwatu temple there is small forest and dwelt by a lot of monkeys and other animal. Monkeys also stay near the temple and cliff face hoping for a banana or some peanuts from the visitors. Every evening, Kecak Dance is famous as a dynamic dance which is livens up as sunset.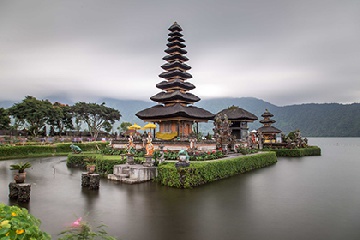 Ulun Danu Beratan Temple
Ulun Danu Beratan Temple is one of balinese hindu temple with beautiful view of beratan lake and green hill and cool temperature. It is located at Bedugul area, Candi kuning village, Baturiti district, Tabanan regency Bali. Bedugul is famous as the cool mountain area and great view. In the highland, Ulun Danu Bratan is located beside Bratan Lake. Ulun Danu Bratan means, Ulun is front, Danu is lake, and Bratan is the name of temple, so it is the temple in front of lake. Once in a year, the lake's water comes into the temple during the rainy season. People believe that the lake makes purify the temple for the goddess. This Bratan Lake is popular place to enjoy cool air and beautiful view of the mountain area.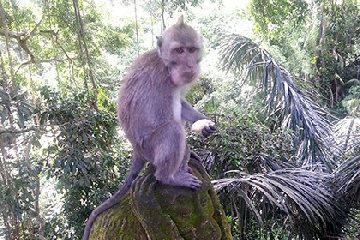 Monkey Forest Ubud
Ubud Monkey Forest located in the hearth of Ubud Village, precisely located in the region of Padang Tegal Village, Ubud Sub district and Gianyar Regency. Ubud Monkey Forest is a small rain forest inhabited by many monkeys, the nature preserve, and wild monkeys walk freely in the forest. They are wild. However, they are fed by animal handlers and treated importantly. This forest is the grove of the village shrine to protect Pura (Hindu temple). Monkeys, the living creature in the forest are protected by village people as the sacred animal. People protect monkeys, monkeys protect the forest, and the forest protects Pura. Then, Pura protects people in here. Ubud Monkey Forest is very important place for continuity the monkey habitat in Bali. For local people who stay in near monkey forest ubud is important people for care and keep this forest naturally so that all wild animals can live smoothly and keep the monkeys from extinction.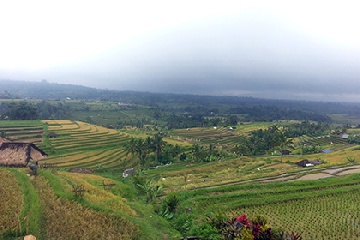 Jatiluwih Rice Terrace
Jatiluwih located in Tabanan regency, west part of the island. jatiluwih is The most magnificent rice terrace in Bali. jatiluwih is one of favorite and famous destination in Bali with the magnificent view of broad rice terrace and the beautiful scenery. Jatiluwih is quiet and simple countryside. It must be the good memory that the soft curved line rice terrace view and the long line foggy Mountain View. There is the good restaurant near there.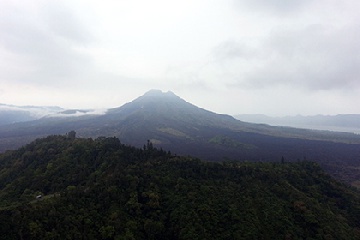 Kintamani
Kintamani located in a district Bangli, Bali Province, Indonesia. Kintamani is one of famous destinations in Bali with view of beautiful lake and active volcano of mount Batur. Around the area is well known Kintamani as the great view place of Bali. It is cool even in daytime, if you go down to the lake side through winding road, there are some sightseeing spots, such as Toya Bungkah hot spring, and Truyan of Bali Aga village, etc. If you visit there, you should remember that the weather is changed easily, sometimes blue sky, sometimes rainy, and foggy. Kintamani is surrounded by the beautiful nature and there are some ancient villages around cauldron of Batur Lake which is often called by Bali Age Village. For local people who original from Bali Age village, they have unique life style, unique house and unique cultures. Local people who are mostly work as farmer, merchant, or work at industrial tourism.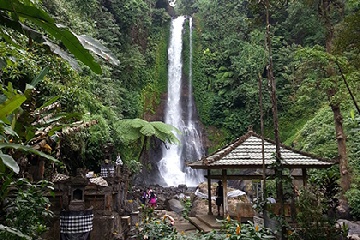 Gitgit Waterfall
Gitgit Waterfall located in Gitgit countryside, Sukasada sub district and about 10 Km from Singaraja Town or about 70 Km from Denpasar. Gitgit Waterfall is one of famous tourist destinations in Bali. Voice of waterfall around nature was fantastic and that is make people enjoy. It takes about 45 min by walk from the park to waterfall. The road is paved but there are stairs, and it is cool place, so recommend bringing sneakers and long-sleeve cort, etc. to be prepared. The height of waterfall is about 50m, and it is surrounded by forest and pure and cold water is flowing. Regardless of seasons, you can see the waterfall. Around the area has green wild nature. When you visit the place, you had better arrive at there before noon and enjoy nature, and take lunch at the restaurant near the parking.